Healthy Stepper Isabel, a model and singer from Los Angeles, decided that she needed to turn her focus back to health and wellness when she recognized that her weight had elevated since the pandemic. In this video, Isabel shares her experience with the Healthy Steps At Home Program and her amazing results on her 2-month mark. Read more about Isabel's journey below!
When did you realize you wanted to work on your health and wellness by losing weight?
The moment I realized I needed to focus on my health and losing weight again was when I recognized that my weight had stayed elevated since the pandemic started and I wanted to feel more like myself pre-pandemic.

What was it about Healthy Steps that appealed to you?
Healthy Steps appealed to me because it felt like a realistic lifestyle change that I could adopt into my life rather than just another crash diet.

Why did you choose the Healthy Steps At Home Program? How did it fit into your lifestyle?
I chose Healthy Steps At Home because my schedule is pretty inconsistent. I often travel for work and I don't have a set schedule, so it was really convenient to be able to do everything from home since it's just a phone call away.

Describe a typical day of your At Home program.
I wake up in the morning, drink about 16 ounces of water then go on a walk, and when I get back I enjoy my black coffee. Around 10 or 11am, I take my green tea extract pills, then eat my first meal at 2pm.

What is your favorite thing about the program?
I think my favorite thing about the program was talking with the practitioners and the doctors. Any questions that I have, they're ready for me, and just being able to talk to them consistently is super helpful. I need some accountability, so knowing that I have to talk to them once a week or once every 2 weeks keeps me accountable, and keeps me extra motivated to stay with the program.

Did your doctors provide you with a personalized experience
The providers definitely treated me like an individual. They asked what my lifestyle was like already, and catered to that so that it was flexible for me.

How did your providers help you feel confident during the program?
With my weekly calls, I feel like the confidence came from them being my personal cheerleaders, cheering me on with my progress, and I really look forward to our weekly calls.

Describe your results so far.
In the last 8 weeks, I've lost about 18 pounds. It's amazing and exciting because it's been a long time since I've made it this far. I've noticed that my skin is a lot clearer, I have friends saying that I glow, and I have a lot more energy. I feel way more productive as well.

How do you feel differently now that you have been on the program for a period of time?
I feel really good! I feel motivated to keep going because I'm not ready to stop. This experience with Healthy Steps has given me a pep in life, and I really like what I see when I look in the mirror.

Why do you think Healthy Steps is different from other weight loss programs?
Healthy Steps is different from other programs because they're so flexible with you personally and whatever your lifestyle may be. Being able to talk to my practitioners on a regular basis is a great boost.

Would you recommend the program and why?
I would definitely recommend this program because it's easy and flexible. It's a lifestyle, not just a diet.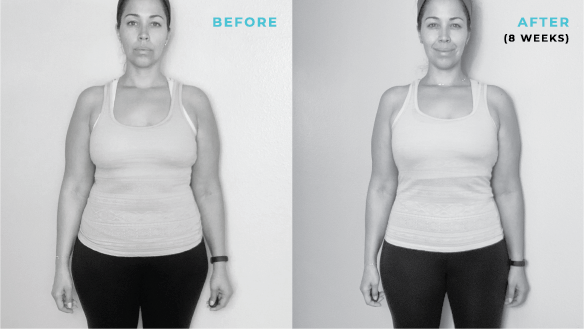 Ready to write your own Healthy Steps story? Learn more or get started with our introductory offers here